Recently, the American Standard (China) Co., Ltd. affiliated to Bauing Industrial Co., Ltd., Shenzhen, issued a "special project dealer certificate", and authorized the Bauing Industrial Co., designated in China to distribute American Standard brand, all products. This is a treasure Group, the implementation of materials, strategies, improve the materials supply chain system is another important step and results. Bauing Group has previously established a base of aluminum alloy products production and processing, glass curtain wall production and processing base, mechanical and electrical equipment installation and processing bases, while with a number of stone, steel, wood and other materials production and supply of strategic cooperation carried out to form a long-term and stable cooperation relations, in ensuring the supply of materials, while reducing the cost of material price fluctuations on the impact.

It is reported that American Standard is a leading global developer and manufacturer of bathroom products for its quality service and product quality in the market established a good product image and credibility.
American Standard Europe the most cutting-edge fashion design to bring China into the world's leading science and technology integrated into a variety of products bathroom design, helping consumers to build unparalleled comfort, safety and water-saving way of life. American Standard successfully entered, including Water Cube, including 36 Beijing Olympic venues and related projects, but also become a "Good Luck Beijing" 16th Diving World Cup title sponsor, and for several years in Shanghai Tennis Masters Cup the only bathroom products partners. A number of key projects, city landmarks, luxury hotels, high-level real estate, have left the United States the subject of footprints.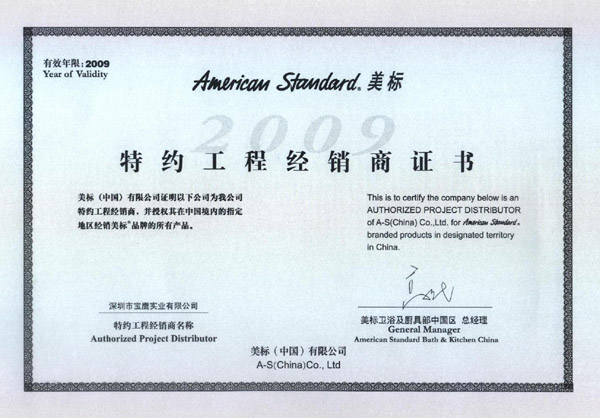 Certificate of special projects dealer