On 30 th Jan. 2012, after very good preparation, Bauing Group work summary meeting of 2011 and mobilization meeting of 2012 was held successfully at state-banqueting hall in Xiangmi lake, Shenzhen. Chairman of board, President Gu Shaoming, Group Director, Vice President Xu Ping presented in the meeting with more than 500 staff and part stock holders, representatives of stock holders, directors, strategic cooperative partners.
Secretary of board, Vice President Zhong Zhigang hosted the meeting.
Vice President Xu Ping made a report on group work process and achievements of 2011 in the meeting. According to the report, though we are facing the negative international economic situation and complicated construction market, our business kept growing under the right leadership and instruction of board. For the year of 2012, group would be fast growing. We would concentrate on managing, technology, quality, safety etc. We sincerely hope that all departments, branches would be active and work hard as usual to make our group more splendid.
Vice President, General Engineer Wang Jianguo stated '2011 Reward Decision of Shenzhen Bauing Construction Group Public Company'. The representatives of advanced group, excellent project team, excellent dept. manager, excellent staff made speeches, the name list as follow: Liu Guoyan from Kunming branch, Yunnan Province, Ye zhizao from Wanke Shuangyuewan project team, Chen Guiyong general manager of quality and safety dept., Liu Jia from project management team.
Chairman Gu Shaoming made a very important speech, and he spoke
highly of our performance in 2011. He said that 2011 was the fast-developing year for Bauing group, and also was the first year of the 4 th 5-year plan. For the past year, under the hard working of our sisters and brothers, our group achieved comprehensive, healthy, great-leap-forward development. Our gross value, revenue, tax and growth rate were all ranking among the first level in this line. At the same time, we are happy to be selected as the most potential growing enterprise top 100 of China. He pointed out that the development of Bauing group counted on the trust and support from all stock holders, counted on the scientific planning and right decision from all directors, counted on the commitment of our business management team, relied on the hard working of ourselves, depended on cooperative partner's cooperation and vision. He wanted to thank all who made contribution to Bauing group from the bottom of his heart. And also he wanted to thank and greet all relatives of our staff.
Meeting ended with happy music, 2012 annual party started. Chairman Gu Shaoming propose a toast to all members of Bauing group with his managing team. The party atmosphere was very good. Attendees were enjoying the exciting shows.
Best wishes that Bauing Group would be more and more successful and splendid
Chairman, President Gu Shaoming (left-side 5 th ) proposed a toast with managing team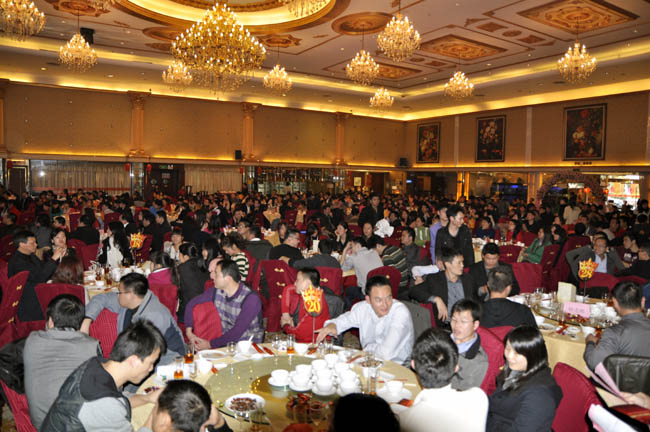 One Corner of The Banqueting Hall